PricePoint Feature Summary

Powerful Features

| | |
| --- | --- |
| | Invoicing and Estimating |
| | Powerful Pricing |
| | Work Orders and Scheduling |
| | Proposal Builder |
| | Flat Rate Pricing and Flat Rate Book |
| | Assembly Library |
| | Email Functions |
| | Service Agreements |
| | Inventory Control |
| | Purchase Orders |
| | A/R & Collections History |
| | Instant Customer History |
Friendly Pictorial Menus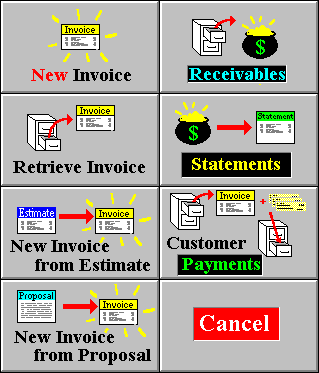 Let PricePoint guide you through everyday tasks - It doesn't get any easier! The tools you need are grouped together by function so you're more productive. The picture at left is the Invoicing and Accounts Receivable menu. Notice that Invoices can be created from either an Estimate or a Proposal in one easy step.
Benefits
Simple menu guided process
Tasks grouped by function

---
Instant Invoices and Estimates!
PricePoint is here to make life easier, not more complex and confusing. Invoices and Estimates are created by a simple process:
Pick a Customer (or type in a new one)
Describe the work that you performed (lots of space!)
Type in the Amount
or pick items from the built in database
or pick tasks from your flat rate book.
Print it out on plain paper. Even include your company logo in the heading!
Here are some of the features that make PricePoint so popular!
Powerful Customer Searches - Search customer list by address or phone.

Click (Global Search) to find a customer by a job location address or phone! - Search the job location fields to return a particular invoice...

Click for an Instant Customer History - Displays customer status complete with outstanding balance and aging!
Easily retrieve invoices by job location.
Displays invoices from the customer history by job location!
Record special customer notes!
Record your water heater and boiler warrantee numbers here!
Unlimited Job Locations for each customer with job location notes.
Record owner name and job address. Even save the job foreman's name and telephone numbers! For example: Record the foreman's name, job phone numbers, special notes on how the job is progressing or warrantee information.
Create mail merge files for Office by Customer Category
Invoices, Estimates and Work Orders with 1 1/2 page job description.
Document the work you perform for a customer!
View these notes in the customer history! When customer calls, you've got answers!
Joblinx library stores your common job descriptions.
Stop typing the same job description over and over. Just pick it from a menu!
Link Job to an Assembly to build invoices and estimates in an instant!
Invoice directly from your own Flat Rate book!
Just pick your scenarios from the menu, it doesn't get any easier!
Extra charges library.
Create a list of extra charges for permits, backhoe setup, rentals. YOU NAME IT!
Create your own customer discounts on labor, materials or both!

Create your own extra charges such as a back-hoe charge or permit fee to use in your business! Even create custom discounts! Unlimited Extra Charges can be included!
Customer History Display!
You're probably already aware that PricePoint can display an instant customer history when you click

from the find customer dialog. Those of you with large numbers of invoices also know that the customer history dialog can take a while to appear. We've reengineered the process that produces the customer history to speed up the process by a factor of 5.
Includes Collections History Tab!
We got started on this project because one of our old customers asked us about a problem he was having with collections history. The most logical place to access the collections history is in Accounts Receivable and that was the root of the problem. Since A/R only displays open invoices, any collections history tied to closed invoices wouldn't show up. If promises to pay were made and linked to an invoice that applies to several invoices, once the linked invoice was closed, you couldn't see the history.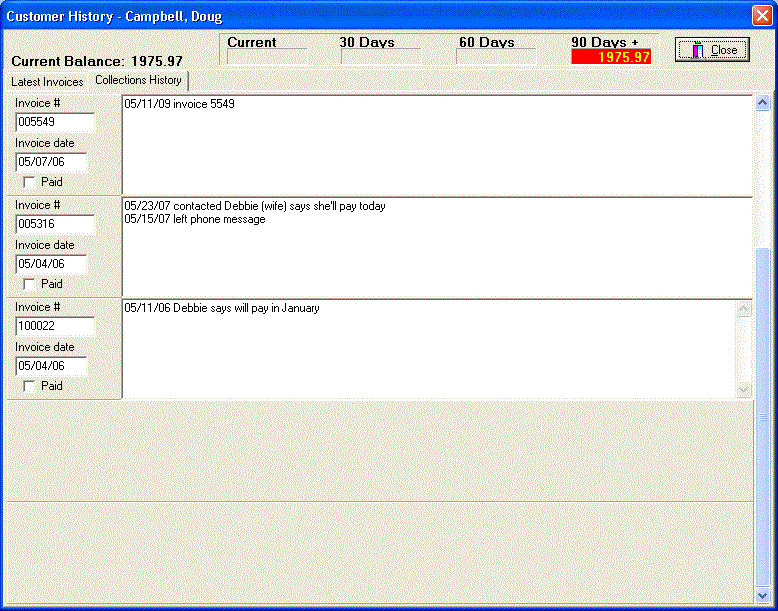 To solve this problem, we decided to make a change in the most logical place: customer history. This dialog is available before a work order is scheduled or an invoice is written. That way the collections history can alert you to a potential problem before the work is scheduled. If there is a collections history for this customer, the customer history dialog will display a new collections history tab. Collections history is sorted with most recent at the top, just like the invoices in the customer history display, with each record showing whether the linked invoice is still open or paid.
A/R Report - Effective date
Every year, around tax time, I hear from users that they'd like to find out what their receivables were at some time in the past. Typically, this would be for the last day of the tax year. Well, now they can!